The season is approaching where more and more trips are being planned. Weekend getaways are always a hit for the hard working business woman. If you are moving into a more eco friendly way of living and dont mind packing light, the you will adore French cardboard luggage. These stylish suitcases can be use for light travel or heavy decoration. French Cardboard luggage is as fun to look at is it is to carry.
1. Pink Love Brown Set

$40.00

This natural set of lime green and brown luggage is a staple piece in the making. This set is perfect for fashionista who loves Spring travel and packing lightly. The wooden handle and silver grommets add sophisticated detailing. These suitcases are simply chic!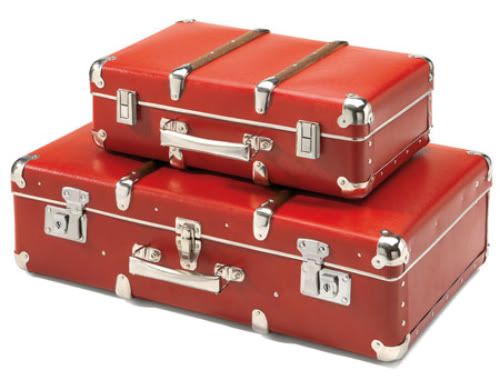 2. Red Cardboard Luggage
$40.00
This set of luggage is more sturdy and bold. It is very reminiscent of retro luggage, missing the travelers stickers. The larger piece is ideal for an organized packer who can fit large things into small spaces. The vibrant silver hardware compliments the bold red color.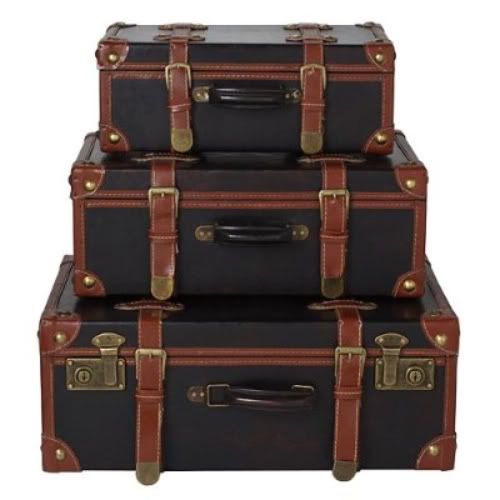 3. Target Set of 3
$170.00
If you are searching for the French Cardboard feel with more durable quality, then this is the set. The luggage is larger and constructed of a sturdier cardboard material. We wouldn't recommend you to give this to the baggage boys to toss around the plane, but it makes a great carry on. The natural tan and black color scheme is unisex. Gold grommets complete the retro look.
Stylish Travel Accessories
1. Handbag Hook, 2. Footzy Rolls, 3. Pocket Umbrella
Don't forget you accessories that pack perfectly into your French Cardboard Luggage. This handbag hook is ideal for keeping your beloved purse of the germified floor. It hangs from any flat surface. These footzy rolls are perfect for a break for the towering pump. You can store them in your bag during painful times of need. Lastly, we can't predict the weather. Stay prepared with this compact pocket umbrella that snuggles right into the corner of your purse.